As most people out there, I've made a fair few mistakes in my life. Both in personal and business circles.
One of the things I find refreshing about the startup space is that mistakes are accepted as part of the startup journey. The high degree of uncertainty that accompany startups and their business models, make it socially acceptable to make mistakes and talk about them.
It's almost a badge of pride to admit a mistake and then to swiftly follow it with how one rectified it. It does feel like we rarely ever get the full insight and thinking behind how they realised the mistake and brainstormed how to rectify it. Sadly, to me that's often the most interesting and valuable part of the story. It's the thought process that the actors go through that I find the most interesting. It reveals a lot about how they view the world, the landscape and so much about the frameworks people use.
Well in this case, the rectifying hasn't happened yet. So you'll get full insight into how the Mashroom team is attempting to rectify their startup positioning mistakes.
First, the context
I'm on the Marketing team at Mashroom, a UK startup trying to fix a broken rental system with bloated costs and, sadly, often quite hostile relationships between landlords and tenants.
We're a marketplace that connects landlords and tenants. And we provide landlords with the tools to manage their property better thereby providing tenants a better service than many are currently receiving. At the same time landlords can reduce the (sometimes extortionate) costs they are being charged by letting agents.
Our focus is much more on increasing our supply side (= landlords and their properties) since our demand side is relatively well serviced by our integration with the large UK property portals, Rightmove and Zoopla. We advertise for tenants on both of those.
Second, the competitive landscape
When it comes to competing for landlords, we've got three loose competitor groupings:
1) Classified listings. Gumtree mainly but there are a few other websites. They attract landlords that are hyper focused on cost and are used to managing the tenant find and property themselves.
2) Local letting agents. There are a lot of them and the space is highly fragmented. They have varying levels of service but the vast majority of landlords use these agents to find tenants and manage their properties for them. The costs are usually fairly high though there are often stark differences between individual agencies and regions.
3) Online letting agents. These companies often compete on price and their most important product is a basic tenant-find service. Most landlords who use online letting agents then tend to manage their properties themselves when the tenants move in.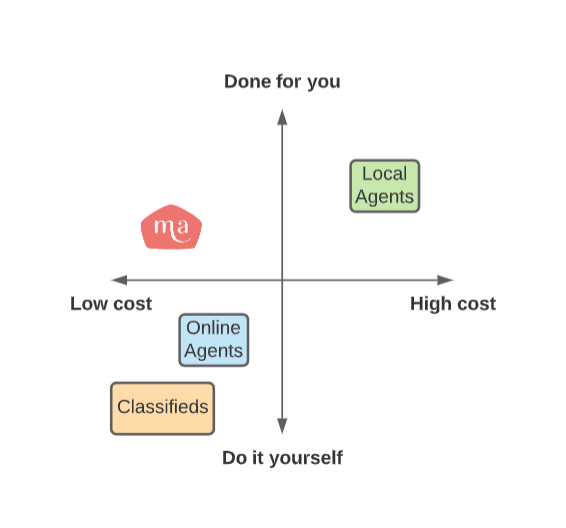 A basic 2×2 map showing how Mashroom is differentiated from its competitors.
 As you can see Mashroom offers a low cost model with some of the "done for you" aspects that a local letting agent offers. Except these come in the form of tools that help the landlord find a tenant and then manage the property. We don't have a real person doing it for them (like the local agents do). This is why we can afford to charge nothing for some of our services.
Third, the initial results
Given the title of this email, it doesn't take a genius to realise that initial results weren't perfect. They were average.
Good enough to know that something in our offering was resonating.
Bad enough to know that there was a fair bit of fixing to do.
We ran the usual startup marketing channels: Facebook Ads, Google Ads, PR campaigns, and a few other smaller channels. Within the platforms we did a lot of testing on audiences, creatives, messaging and keywords.
In addition, our sales team worked hard at doing cold outreach and they brought in a fair few landlords too.
Even though we saw some traction, it wasn't enough to call it a success. When landlords are used to paying thousands for a done-for-you service and they get ours for free, we expected initial sign up rates to be higher.
Sometimes we had landlords come through who were happy to get a tenant via the free tenant-find service but then absconded when it was time to manage their property via us (also completely free to them).
Something wasn't quite right.
Fourth, the blame game
This part happened gradually over a few months. As we were doing the tests, I was going through the motions of identifying where we were going wrong:
In fact, it was all of the above. But there was an even bigger problem. It all boiled down to the fact that we didn't know our landlord customers well enough.
We had invested the time in interviewing our customers, but hadn't asked the right questions. I thought I knew a decent amount about landlords, the struggles they are facing to find a good tenant, the pressures from government regulation and increasing tax rates and being overcharged by letting agents.
But that's the problem with bad customer research. No one is there to tell you how good or bad the research you have done is. There is no right or wrong answer. But it turns out there is such a thing as a bad question, and we'd asked plenty of those.
Fifth, the understanding
In order to understand why we were failing to get the traction we needed, we had to understand our landlord customers better.
At the beginning of this year it became the marketing team's top priority to do proper customer research and conduct thorough customer interviews.
Rob Fitzpatrick's 'The Mom Test' became an invaluable resource to us. His book is a short but excellent guide on what questions to ask and what questions not to ask on customer interviews.
Upon re-reading (yes, I'd read it before but not paid enough attention to the advice) the book highlighted to me that our questions didn't focus enough on the subject's past actions.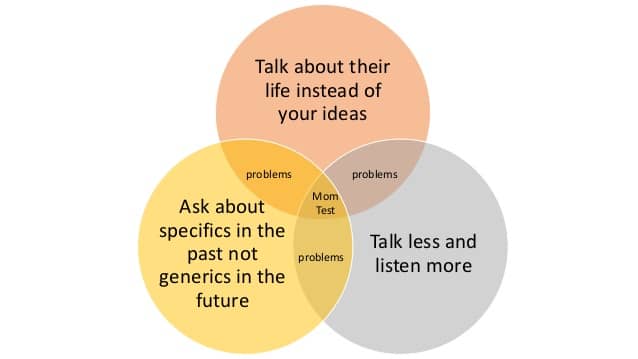 This Venn diagram from Agile Lean Life sums it up.
Instead we asked about hypothetical situations: "What would you do if you were in X situation?" and "How would you go about doing Y?"
At fist glance, there doesn't seem to be anything wrong with this type of question. Until I realised that the emotional state they are in, the location and what's on their mind when they are answering the question is likely to be different to when they are actually confronted with one of these situations we're asking about (e.g. a burst pipe in the middle of the night).
We should have asked questions about the situations they already found themselves in. "What did you do?" instead of "What would you do?". And then we should have drilled down further. The 5 Why method springs to mind.
Not only did we ask the wrong questions but we compounded it by also interviewing some of our early customers. Nothing inherently wrong with that, but in many of their answers they tried to link in Mashroom. We didn't want them to fit in our offering into their answers, but they did and this probably skewed the answers to the hypothetical scenarios even more.
As a result we decided to get some new landlord interviews under our belt. And to do it properly this time around.
This post is Part 1 of our two part series. Click here to go to Part 2.
If you enjoyed this read, hit subscribe below to get an essay like this. Every so often.