When marketers think about customer acquisition they often first think about advertising channels. In startups, these tend to be Google or Facebook Ads.
Then they might think about Organic Search traffic and SEO, Partnerships, Sales or PR. But hardly do they ever think about what often amounts to one of the largest acquisition channels for most businesses: Word of Mouth.
Why is that?
Word of mouth as an acquisition channel has seemingly few inputs. Can you crank up your Word of Mouth budget? No. Can you quickly write some content pieces that will rank and go viral in customer's brains? Nope.
Word of Mouth is hard to control and hard to track. How do you measure something that is inherently offline?
When I first joined Patch plants (a houseplant e-commerce startup) we didn't track word of mouth at all. Then we implemented a compulsory question on checkout asking our customers how they'd heard about us. Over 1/3 of respondents consistently said they'd heard about us from their friends and family. If we ignore the fact that this method of attribution is not foolproof, Word of Mouth was one of our biggest acquisition channels next to Facebook and Instagram ads. 
Word of Mouth can be an even bigger contributor in B2B businesses where networking with colleagues and people within industries creates ideal environments for recommendations.
Here are five ways you can crank up Word of Mouth for your business
The thing is that many of these sit outside of the marketing team's remit and you'll have to collaborate with other teams in the business.
Action #1: Ask your customers to refer you
Simple, right? Yet you'd be surprised how many companies don't do it. All it requires is pinging an email, give a phone call or ask in person (if it applies to you). Do this after your customer has received their product or service from you.
Most of us are so busy with our lives that we often need to be prompted to do something. You wouldn't run an ad without a "Sign Up" or "Buy Now" button? So why not contact your customers to help get a referral out of them?
Action #2: Incentivise your customers to refer you
Incentives go a long way. And incentivised referral schemes can be powerful in driving growth. I could spend a whole email on this as there are many variables to consider:
You need to consider whether you will incentivise the person referring or the person being referred. Or both. It depends on your product and your customers. And you'll have to test the different incentives as well as the messaging you use.
You'll also probably need a third-party tool like MentionMe, Viral Loops or Referral Candy to activate this. Unless you've got the resources and time to build your own.
Action #3: Drive 'non-product' Word of Mouth
Your product or service is not the only aspect of your business that can drive word of mouth. Almost any customer touchpoint (or even a few non-touchpoints) of your business can help push more Word Of Mouth. If it's remarkable, chances are your customers will talk about it:
"I read this great article about how X company pays farmers fairly."
​
"Did you see that Nike ad?"
​
"I love how they give great customer service."
Do any of these apply to your business? Is there anything your customers love that you can highlight in your marketing and therefore increase Word of Mouth?
Action #4: 'Care' for your customer
Similar to Action #1, I often see plenty of opportunities for businesses to actively reach out to customers with care emails or phone calls. I'm not referring to emails that ask for customers to give the company an NPS rating or ask for a review.
When I was at Patch, each customer would get a "plant parenting email course" packed with tips on how to look after the plants we delivered. Initially, it was pretty generic but as we upgraded our email service provider, we were able to tie the care emails to the plants they ordered. There was no way to track the Word of Mouth as a result of the email course, but we got great anecdotal feedback from some of our customers.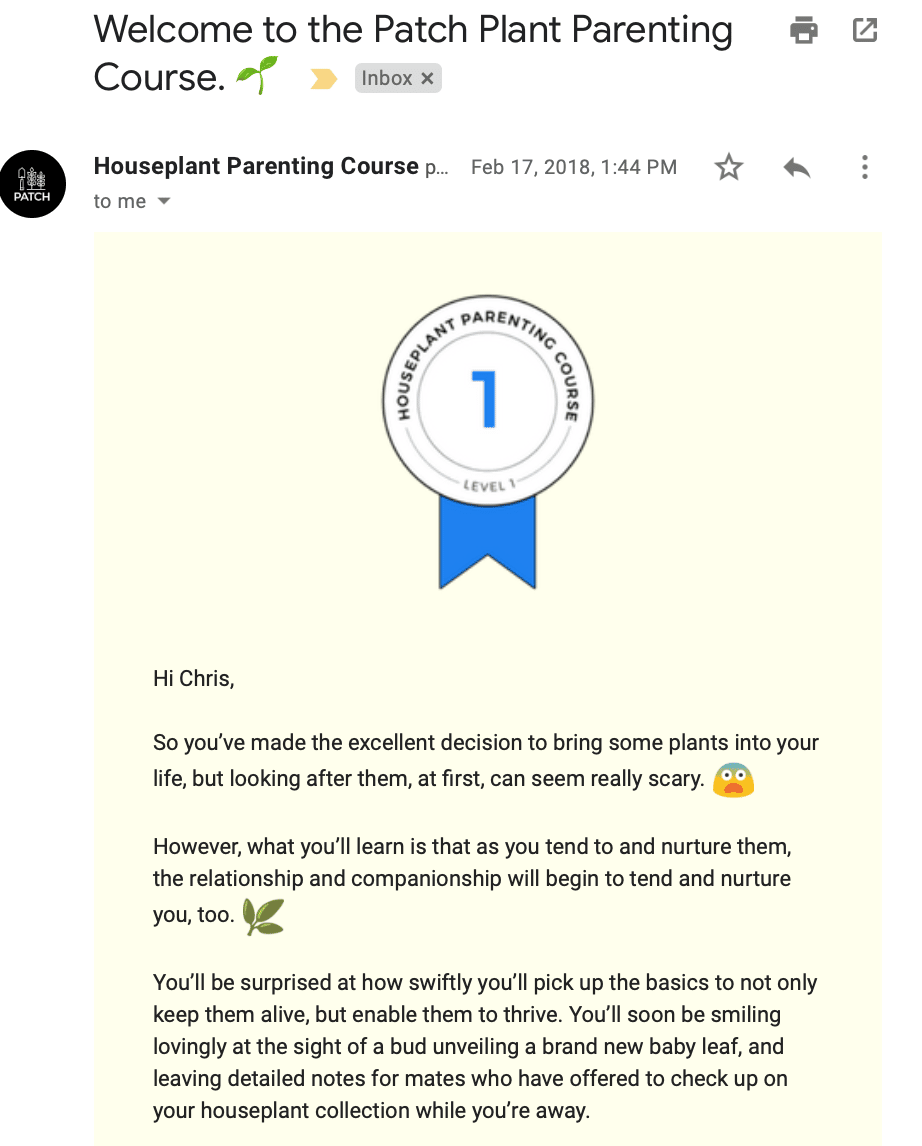 If you have a high ticket value product or service, it might be worth phoning up to check on your customers.
Action #5: Create a powerful moment for your customer
This action takes the crown for being the hardest to quantify and also to implement. It's based on research from Chip and Dan Heath who wrote "The Power of Moments".
In the book they explore how people recall certain experiences, be they good or bad, by the flagship moment they experience. They then explain that each moment usually has one or more elements to it which anyone can emulate.
My favourite example from the book is that of the Magic Castle Hotel which is ranked as one of the top 10 LA hotels on TripAdvisor. Looking at it from the outside, it seems like a pretty unremarkable hotel. However, you can read through some of the reviews and spot how, despite the dated building, the hotel has taken care of the little things that have an outsized impact on the customer experience:
Complimentary breakfast
Complimentary WiFi
Complimentary newspaper to your door every morning
Complimentary laundry service
​
My absolute favourite is the popsicle hotline where they have a phone near the pool. Any guest can order a free popsicle delivered that is delivered to their sun lounger in minutes. What other hotels would do that for you?
By creating these powerful, positive, and most importantly, memorable experiences you can almost guarantee that customers will talk to friends, family and colleagues about their experience.
What the 'popsicle hotline' is for your business is probably the million-dollar question. But it's fun to brainstorm your customer touchpoints and see where you can surprise and delight your customers.
That's it for this week. I hope you enjoyed this email, it was fun writing it! Please do forward it on to anyone you think may enjoy reading this type of content.
Thanks for reading! If you enjoyed it, consider subscribing to get these posts to your inbox every Friday 👇