I've always loved looking at maps. There is so much history that a map can tell you that is otherwise not apparent. Road names in city centres reveal what business used to occur in the immediate area. In the City of London for example, Bread Street is where many bakeries used to be. Poultry is a very short street where poultry used to be sold and nearby Cheapside (old English for market place) is where the general market used to be. When I used to work there years ago, I remember the pavement being pleasantly spacious compared to many other nearby streets. That was probably because there needed to be room for the market stalls.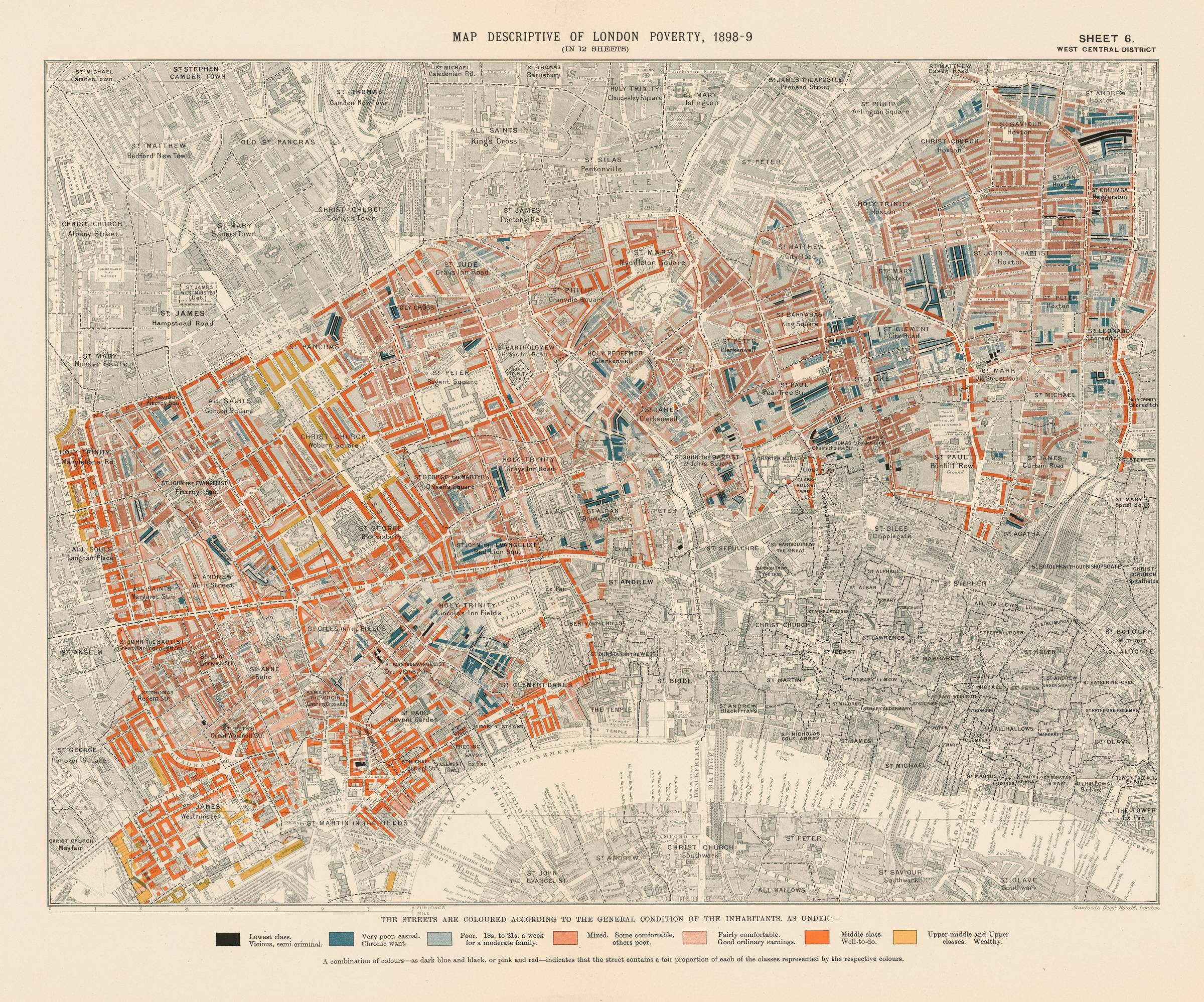 But these street names also reveal that sellers of certain produce used to cluster closely together despite being competitors. It's something that's still common with many bricks and mortar stores today. They come together in shopping malls, town centres and high streets. Consumers know where to find these shops and they gravitate there to make their purchases. Despite being competitors, the stores benefit from the concentration of customers seeking them out.
Online these clusters also exist. But they are much more competitive. You find these clusters on the search engine results pages. On social media. On large market place websites (e.g. Amazon). But just like physical bricks and mortar stores have to pay rent for their store to be in a prominent position, so do online websites need to pay rent in the form of advertising fees to big tech to generate traffic for their digital storefronts.
But some few companies manage to circumvent these rules and they pay less rent than others. They use content and traffic magnets to provide something valuable to users and so do not have to advertise as much.
Traffic Magnets have existed since the early days of the web
I wrote about this a year ago, before I started this newsletter. In "How Can Startups Grow Without Paying the Google and Facebook Tax?" I argued that the best-case scenario for a company to avoid paying sky-high customer acquisition costs is to build a traffic magnet. A destination on the web that your customers seek out.
Yahoo (back in the 90s when it was a directory and had all the news you could want), Expedia (back in the day when transparent airline pricing was not as common), Glassdoor (where else can you get reviews of companies as workplaces?) and US real estate portal Zillow (home of the first instantaneous automated home valuation) are all examples of companies that created a successful traffic magnet.
Back then I was big on the theory and had a list of examples but didn't expound too much on how one could actually create such a traffic magnet. I'd like to correct that mistake here.
This year's exercise of going through the positioning research for Mashroom and digging deeper into our customer pain points has given me more insight into how creating a traffic magnet could work. We're still in the middle of rolling out our learnings and measuring results on early tests, but it's looking promising.
Target your customer pain points
Since you're targeting a certain pain point with your service, it makes sense that you can use the same logic for creating a traffic magnet. Yahoo, Expedia, Glassdoor and Zillow all targeted these pain points, but realise that none of these pain points is what made those companies money. Yahoo sold advertising space, not news. Expedia sells flights not transparency about flight prices. Glassdoor doesn't make money off reviews, but those people leaving reviews might be interested in the roles advertised on its job board. And Zillow attracts potential sellers by showing them what their home might be worth, and it then sells those leads to estate agents.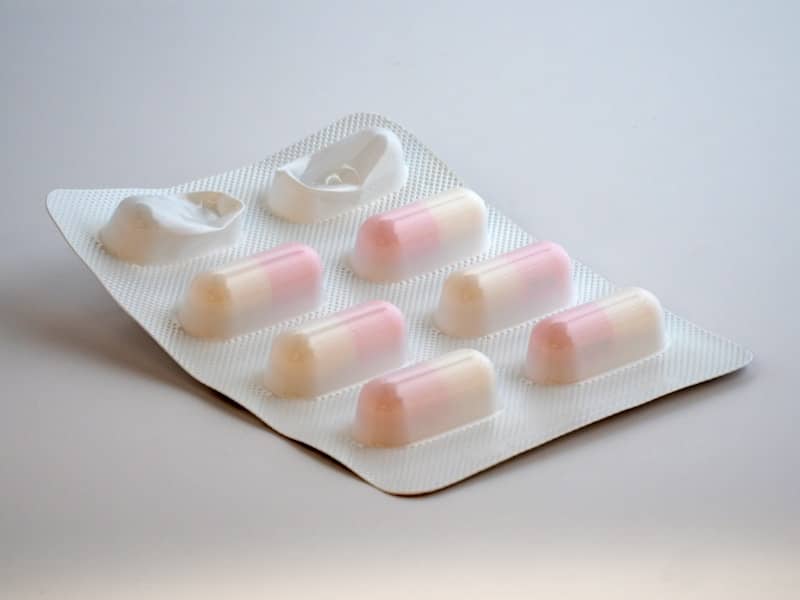 Traffic magnets and content are not synonymous terms. Traffic magnets often consist of excellent content that is not found anywhere else. Sometimes traffic magnets are tools, such as Zillow's Zestimate, that create valuable dynamic content for the user. But on the flip side, a great piece of content even though it is excellent, might not be a traffic magnet.
So what is great content?
​Lenny Rachitsky recently wrote an interesting article that proposed that there are five content-driven growth strategies. He breaks down how these companies derive their content (before the comma) and then how they distribute it (after the comma). See his excellent diagram below:
​
​
The diagram sheds a lot of light on how different companies use content to grow. However, we need to be careful about extrapolating general growth strategies from this because there is also a time factor to consider.
The firms he's highlighted are mostly large established firms that have company valuations in the hundreds of millions if not billions of dollars. That also means they have a lot of resources to plough into their content strategy. If we think of a startup in the pure sense of the word, we're unlikely to have the resources to pull off these content strategies. But it's nonetheless interesting to use this framework to ideate a traffic magnet for ourselves.
You can't copy the market leader and expect the same results
A startup with a massive amount of funding today would not be able to compete with large incumbents in the same space who've built a successful content-driven growth strategy. Heck, even those incumbents who push out mediocre content are probably very hard to displace.
What we see working today is the result of years' worth of work. In terms of search rankings, these companies have built a nearly unassailable fort in that domain. Lenny highlights how Slidebean, a company he's described as being in the top right quadrant (editorially-generated, SEO-optimized), recognised this. And they switched focus from trying to rank highly in Google to targeting YouTube with quality video content. Here's a quote from Caya (Slidebean's CEO) taken from Lenny's article:
"That year, we produced a lot of content (~150 articles), and after a few months managed to get to 3-5 SERP rankings for most of the keywords we had focused on.

For the next two years, that traffic drove our growth.

​

Eventually, though, we realized that getting to 1-2 rank was probably not going to happen regardless of how many articles we published, so we figured we had to find 'the next' search engine: YouTube."
I recommend reading his article in full as there are lots of other insights.
The idea of seeing successful content strategies today coming from work that has been done years ago is one that's been mulling in my head ever since reading Ryan Law's article "The Second Mover Advantage in Content Marketing".
He uses an analogy of the night sky, specifically the North Star, showing not what is accurate today but what occurred hundreds of years ago. The equivalent in content is that what you see today is what worked 5-10 years ago.
Ryan goes on to explain that you can still perform well by doing what the big incumbents cannot or will not do: To target very specific but low volume searches where commercial intent to purchase is more likely than on general high volume searches.
Organic search will be a big driver of interest in any traffic magnet strategy. But that should not be the main consideration. I argue we should let the traffic come from addressing pain points first and from where there's an opportunity gap in search volumes second. If the pain point is big enough and the traffic magnet provides a good enough solution, we will benefit from word of mouth, social media mentions and attention from online publications. You'll start seeing a positive feedback loop where the more attention your traffic magnet gets, the more it attracts users which creates more attention etc. But you'll also likely attract competitors interests.
The four rules to building a good Traffic Magnet
Rule #1 – Is the pain point big enough?
And is what you're giving them as the desired outcome useful enough for your target users to want to seek it out?
Rule #2 – Is servicing the pain point technically feasible?
The traffic magnet might need data to service the pain point adequately. But perhaps you cannot access the data legally or technically. That may prove to be a barrier to creating a traffic magnet out of it.
Rule #3 – Is it easy to get to the desired result?

 
No matter how good, a traffic magnet will not take off if it takes 10min to fill out a form to get the desired result. Give your users value quickly. Zillow's Zestimate takes a few seconds of user attention before it spits out a value.
Rule #4 –

 

Is it repeatable?
If you can get users to come back time and time again, you can help them build a habit out of coming to your magnet. This will also drive referral traffic as people are repeatedly reminded of your solution and will tell others about it. There are two ways you can build in repeatability: For example, when the desired result changes relatively frequently (e.g. Zillow updates the value of your home is updated once a month), or when the user can punch in different variables to get more data (e.g. checking your friends' and parents' home values).
I'm sure there are more variables and factors, but these rules should be a good starting point to test the robustness of your future traffic magnet.
Let's ideate a Traffic Magnet together
To take a leaf from Ryan's article, we can look at what worked in the past and use it as a guide. It's easy to look at existing or past traffic magnets, but we also need to be aware of survivorship bias in all of this. So using the principles of finding a significant pain point that needs solving, let's innovate together and explore putting together a traffic magnet that has potential.
Pain point: Online reviews give an incomplete picture of where merchants fail and succeed. A simplistic rating of say 4.6/5 only provides aggregated information and doesn't go into specifics (e.g. whether the company generally delivers on time).
Goal: Make online reviews more useful and provide more insight from existing reviews
Solution: Enter "n-gram analysis". You've most likely seen the outcome of this analysis in word clouds, where the most frequent words that appear in a text are the biggest in the cloud. If we stripped out all articles and non-descriptive words, you'd be left with the overall sentiment of all reviews. This would also then give the prospective customer of that service way more context. You could even segment the word cloud by 1-star or 5-star reviews to get an idea of common experiences at the low and high-end.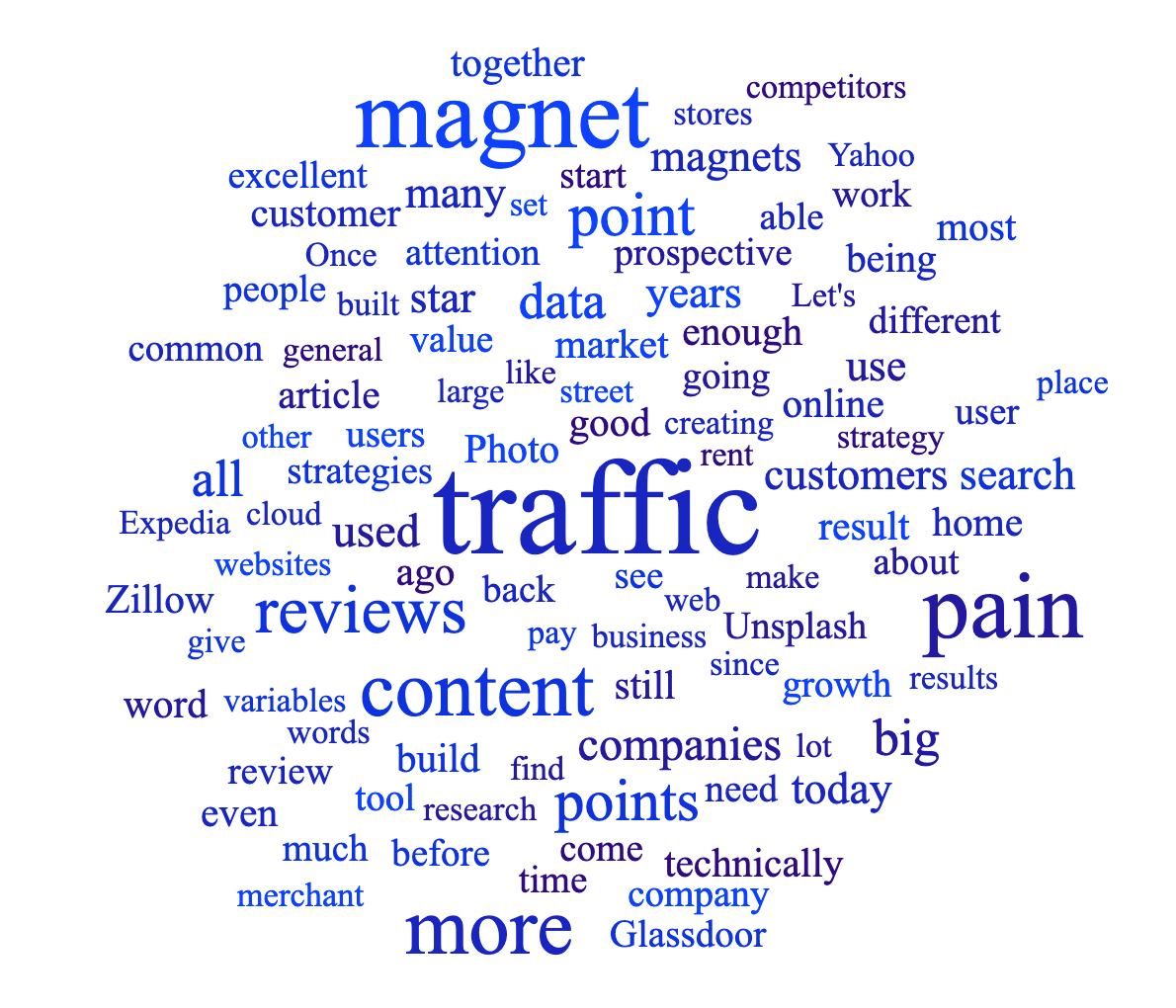 You'd have to set up a data scraper that could go over all the most common review sites and aggregate those reviews. Once you've set this up as a traffic magnet, you could build an affiliate business model around it, where you get a percentage of all sales if people click through to the merchant pages. Perhaps you could even invite users to compare other merchants who have more 5-star "on-time delivery" if their chosen merchant performs badly on that score.
Incumbent review providers could quickly start setting this up as well, but if you were the only place to aggregate those reviews, you might still have a reason why consumers should go to you rather than to Yelp, Trustpilot et al since you'd have the most comprehensive source.
The tool could be set up as a standalone website or even as a chrome extension (which could be modelled on how the Honey app currently works).
Let's run this idea via the checklist we built earlier.
What is a big enough pain point that your prospective customers have?
​Customer reviews are used by 90% of purchasers. Providing an excellent tool to draw out more value from the tons of reviews that exist seems like it could be a big pain point. But more research would be needed.
Is servicing the pain point technically feasible?
Technically we could scrape the data from the review websites. Would it be legal? I don't know. Who owns the reviews? The reviewer or the review site? So more research needs to be done on that. In terms of data manipulation and visualisation, most good data scientists should be able to do that. So no massive technical challenges there.
Is it easy and quick to get to the desired result?
Yes. The user would have to type in the URL or the merchant's name to bring up the corresponding review page and word cloud pretty quickly. They could then segment the data (e.g. by 1-star reviews) or search for different words (e.g. product quality).
Bonus: Is it repeatable?
Absolutely. You should technically be able to use it on every merchant that sells goods online and has reviews.
Conclusion
For established businesses, it's more challenging to come up with a traffic magnet for an existing business, as you're limited by the number of possible pain points you can tackle. And there is a chance that the pain points won't lend themselves to becoming a traffic magnet. By definition, if it's going to attract many people, it must be remarkable.
Once you have a traffic magnet and you start promoting it, you will get a cheap source of traffic that will allow you to grow an audience of prospective customers. You might be able to capture their emails and start building trust with them before you ask them to purchase your product.
If you enjoyed this read, hit subscribe below to get a weekly post like the one you just read. Every  other Friday.